What does cut-off price mean?
The cut-off price is the offer price at which the shares get issued to the investors, which could be any price within the price band.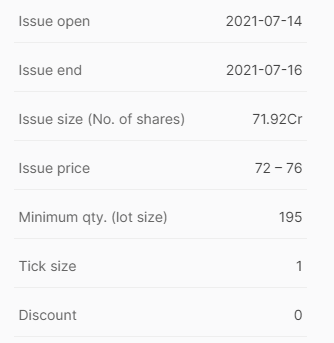 Here, you can find the price range in issue price 72 - 76 for this particular IPO.
An IPO book building issue opens with a price range. There is a minimum price and a maximum price for the issue. An investor can place bids for the desired quantity in multiples of the lot size within the applicable range.
Selecting the cut-off option while applying for the issue indicates your willingness to subscribe to shares at any price discovered within the price band through the book-building process, eventually increasing the possibility of an allotment.
For instance, the price range for an IPO is Rs.72 to Rs. 76.
If you apply for shares at Rs. 74 and the discovered issue price is Rs. 73; then you will receive allotment at Rs. 73 since you were ready to subscribe to the issue up to Rs. 74. Alternatively, if the discovered issue price is Rs. 75, you will not receive an allotment.
In case you select cut-off, you are eligible for allotment at any discovered issue price.
×