How to cancel an eMandate?
Starting July 1st 2022, SEBI has disallowed the use of funds in trading accounts to invest in mutual funds. If an eMandate has been created on Console to invest in mutual funds on Coin, please cancel the eMandates and the schedules before June 28th to avoid funds being transferred to the trading account.

From July 1st, payments for mutual fund investments can be made through UPI and net banking. An email with a link will be sent on the date of the SIPs where payments can be made. The eMandates for MF investments can be created once the new autopay feature is compliant with SEBI regulations.
The auto-debit of funds can be stopped by cancelling the schedule instead of cancelling the eMandate. This is so that the same eMandate can be used to set up schedules in the future without having to set up the eMandate again.
Schedules must be cancelled at least 3 working days in advance (4 working days for SBI accounts) from the next account credit date, as shown below: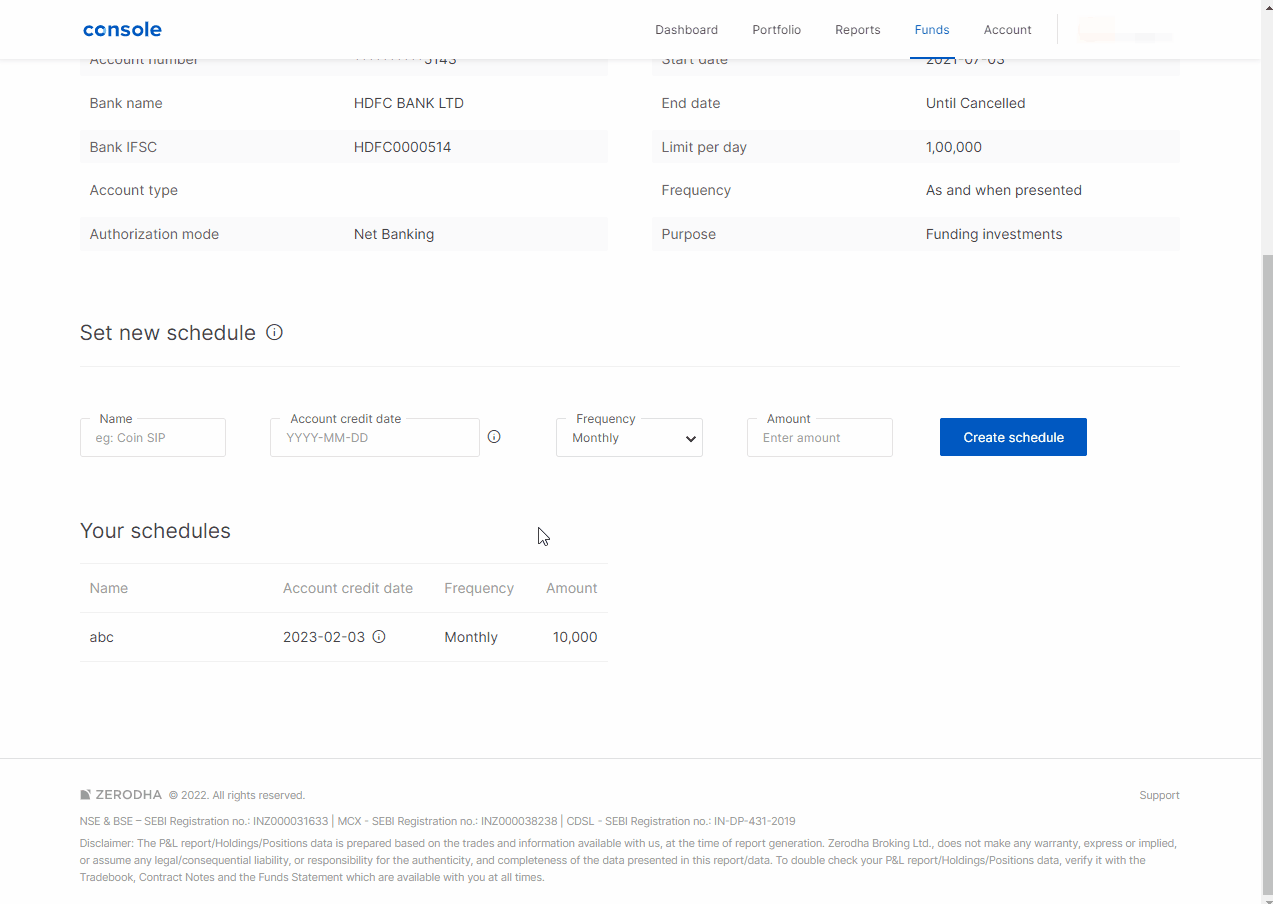 If a schedule is cancelled after an upcoming debit is confirmed, the funds will be debited from the bank account and added to the Zerodha account. However, all future debits for the given schedule will be cancelled. In such cases, the funds can be withdrawn from the Zerodha account, if required. See How do I withdraw money from my trading account?
An eMandate can also be completely cancelled. To cancel, visit console.zerodha.com/funds/mandates and follow the below steps:
Click on Delete mandate .
Confirm the request.
3. Mandates that are under process show up with the Pending Cancellation status.
It takes up to 5 working days for an eMandate to be deleted, and a new mandate can be created once the old one is deleted. See How do I set up automatic fund transfers from my bank account to my Zerodha trading account?
×