What happens once an AMC SIP is created on Coin?
In an AMC SIP, the minimum investment amount is as specified by the AMC. The AMC SIP is not created internally by our system, i.e, Coin. Read more on AMC SIP in this article.
Here is how the order is processed once you create an AMC SIP:
1) Right after the AMC SIP is created, the status is displayed as "New". It will have the AMC SIP tag in the 'SIP' tab under Dashboard.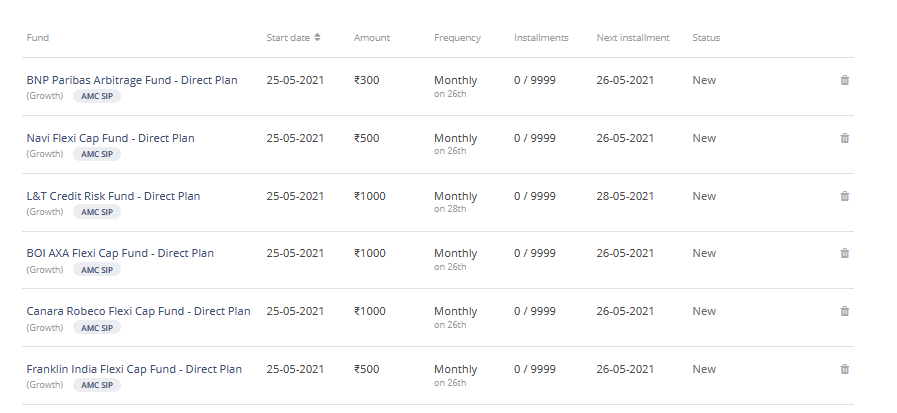 2) On the T+1 Day, the SIP is registered with the AMC. Once it is registered, the status becomes 'Active' on Coin.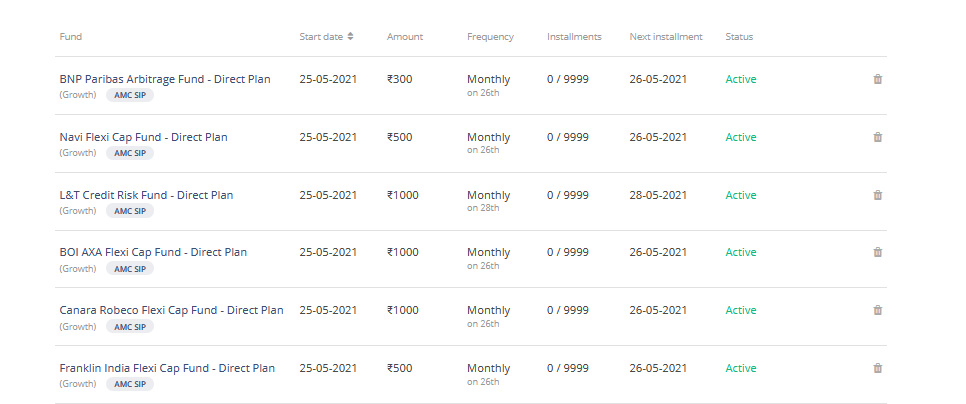 This flowchart below will help you understand the process behind AMC SIPs better.
You will receive an email confirming the registration of the SIP from BSE StARMF, which is where we have our order routing system. They forward the request to the AMC.
Here is an example of the email from BSE.
Note:
1. Please ensure to have sufficient funds in your trading account on the due date. You can set up an e-Mandate to automate fund transfers from your bank account to your Zerodha trading account as mentioned in this article.
2. The dates available in the drop-down field when you create an AMC SIP are specified by the respective Mutual Fund houses. The order for an AMC SIP will be only triggered on the due date for which you set up the SIP.
3. You cannot edit or pause the AMC SIP, you can delete one and create a Zerodha SIP if you hold the units in your portfolio.
4. A second SIP order will only be generated once the first order has completed 30 days. For example, your SIP date is on the 10th of every month. The first instalment is due on the 10th of April 2021, which is a non-business day. The order will be executed on 12th April 2021. Now, the next instalment date is on 10th May, but the order will not be placed on 10th May 2021 as the first order would have only completed 28 days (since it was first placed). The next instalment date will now be the 10th of June 2021.
5. You will not be able to place the AMC SIP order if you have already invested in the particular fund through the Coin SIP. There won't be any initial investment as well.
6. Once an AMC SIP purchase order is triggered, it cannot be deleted.
7. The AMC SIP should be created or deleted 2 days before or after the next SIP date respectively.
This is what happens on the back-end once you create an AMC SIP. You can reach out to us by creating a ticket for any queries.
×