How to apply for an IPO and how to stay informed of new ones?
An IPO application can be submitted through Zerodha from Kite web or Kite app using any UPI application. Visit www.npci.org.in/what-we-do/ipo/live-partners to know the supported UPI apps.
Kite app
To apply for an IPO from Kite app, follow these steps:
Tap on Orders.
Tap on IPO.
Select the IPO from the ongoing list of IPOs and tap on Apply.
Tap on Apply again and enter the UPI ID.
Enter or edit the Quantity and the Price.
Tap on the undertaking tick box and swipe the Submit button.

Accept the mandate on the UPI app.
Kite web
To apply for an IPO, follow these steps:
Click on

Apply.

Select investor type.

Enter the UPI ID.

Enter the

Qty

and

Price. The quantity should be a multiple of the lot size, and the price entered should be within the issue price range.

Click on the undertaking checkbox and click on

Submit.

Accept the mandate on the UPI app.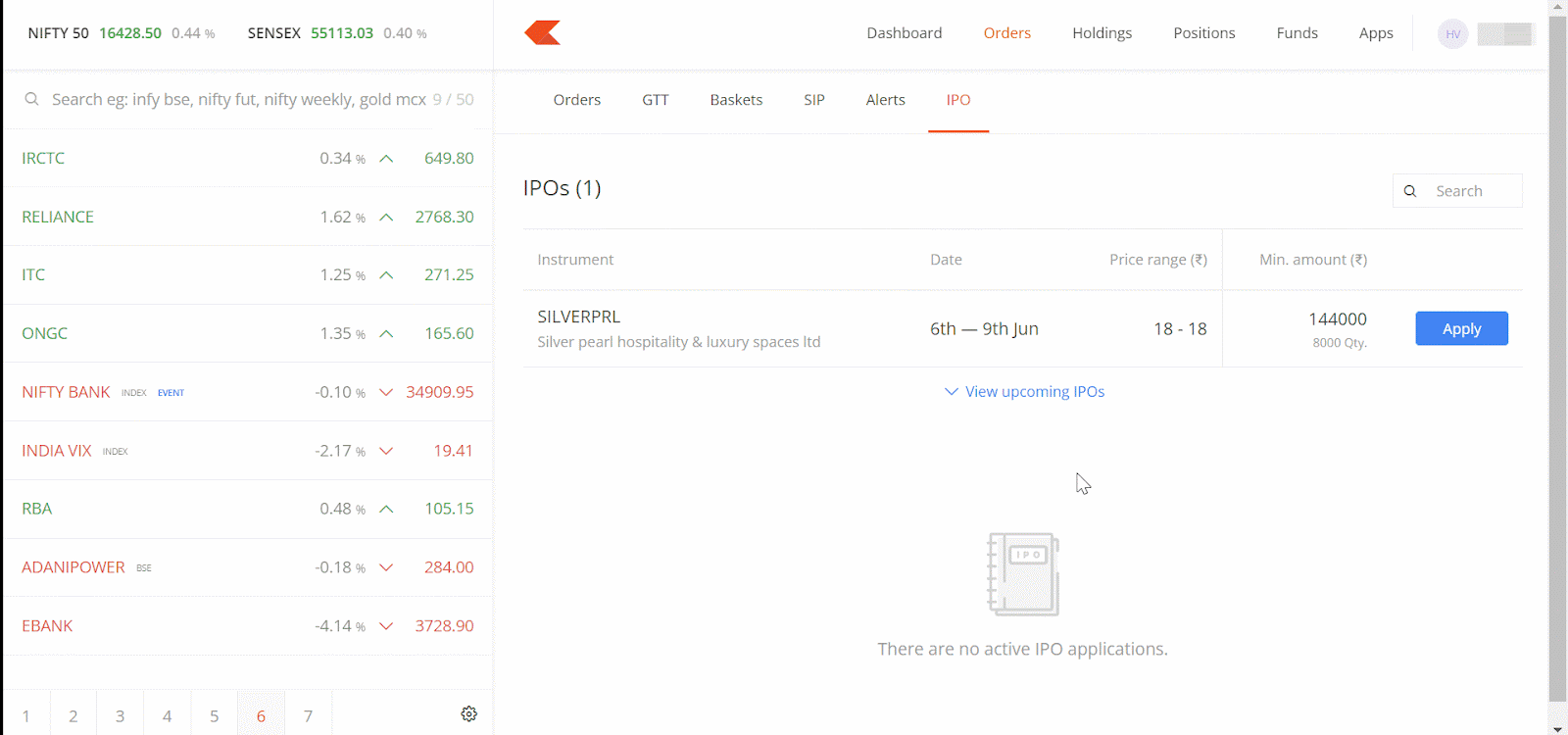 The exchange will send an SMS confirming the application by the end of the day. The bid details can be verified one day after applying for the IPO by visiting www1.nseindia.com/products/dynaContent/equities/ipos/ipo_login.jsp
The bank account mapped to the UPI ID should be of the person applying for the IPO. The IPO application will get rejected if a different UPI ID is used. Visit
support.zerodha.com/category/console/ipo
for other IPO related queries.
Did you know? IPO orders can be placed anytime between 10 AM on the issue opening day and 4:30 PM on the issue closing day. See When can IPO orders be placed on Zerodha? to know more.
Up to 3 bids can be placed in the IPO application. Each bid needs to be within the price range, and the quantity should be a multiple of the lot size. The amount blocked would be the highest among the 3 bids.
Example Scenario
The price range of an IPO is between ₹100 and ₹105. The 3 bids can be as follows:
| | | | |
| --- | --- | --- | --- |
| Bid | Number of shares | Price | Amount Required |
| Bid 1 | 10 | ₹102 | ₹1,020 |
| Bid 2 | 150 | ₹101 | ₹15,150 |
| Bid 3 | 50 | Cut off(₹105) | ₹5,250 |
The table below explains the eligible bid for various issue prices:
Issue Price
Eligible Bid

₹103 or higher

Bid 3

₹102

Bid 3




(larger quantity between bid 1 and 3)

₹100

Bid 2




(largest quantity among bids 1, 2 and 3)
The amount blocked for the IPO would be ₹15,150, which is the highest of all 3 bids.

Visit zerodha.com/ipo/ to know about upcoming IPOs.
×