How to switch to Chart IQ 8 on Kite, and what are its features?
To switch to Chart IQ 8, follow these steps:

Click on

My Profile / Settings.

Click on

ChartIQ 8.



A list of new features available on ChartIQ 8:
Custom timeframe
Charts can now be analysed with candles of custom time frames such as 7 minutes, 125 minutes etc.

Shortcut keys for various functions.


Chart shortcuts are now available on ChartIQ 8. Shortcuts can be used to quickly perform actions such as invoking the order window, accessing drawing tools, zooming, etc.



Chart data to Excel


Chart data can now be downloaded in CSV format. The data will be downloaded in the current timeframe of the chart that has been selected.



Chart to backtest powered by Streak


Streak allows you to create and backtest trading strategies without any coding. Streak is now integrated with Kite charts. Clicking on the Streak icon will start a backtest of widely used strategies with the indicators applied on the charts. A maximum of ten free backtests can be used per day. A streak subscription is required for more. To know more, see

How to use the backtest feature on Kite Charts?
New drawing tools


New drawing tools such as Elliott wave, Magnet, Volume profile by date range are now available.



Tool tip


Historical indicators values can now be seen along with open, high, low and close valued (OHLC) in the info box.



Pin favourite tool
Frequently used drawing tools can now be marked as favorites and can be accessed quickly at the top of the drawing tools menu.

Fullscreen feature


Charts can now be viewed in fullscreen mode for a larger view.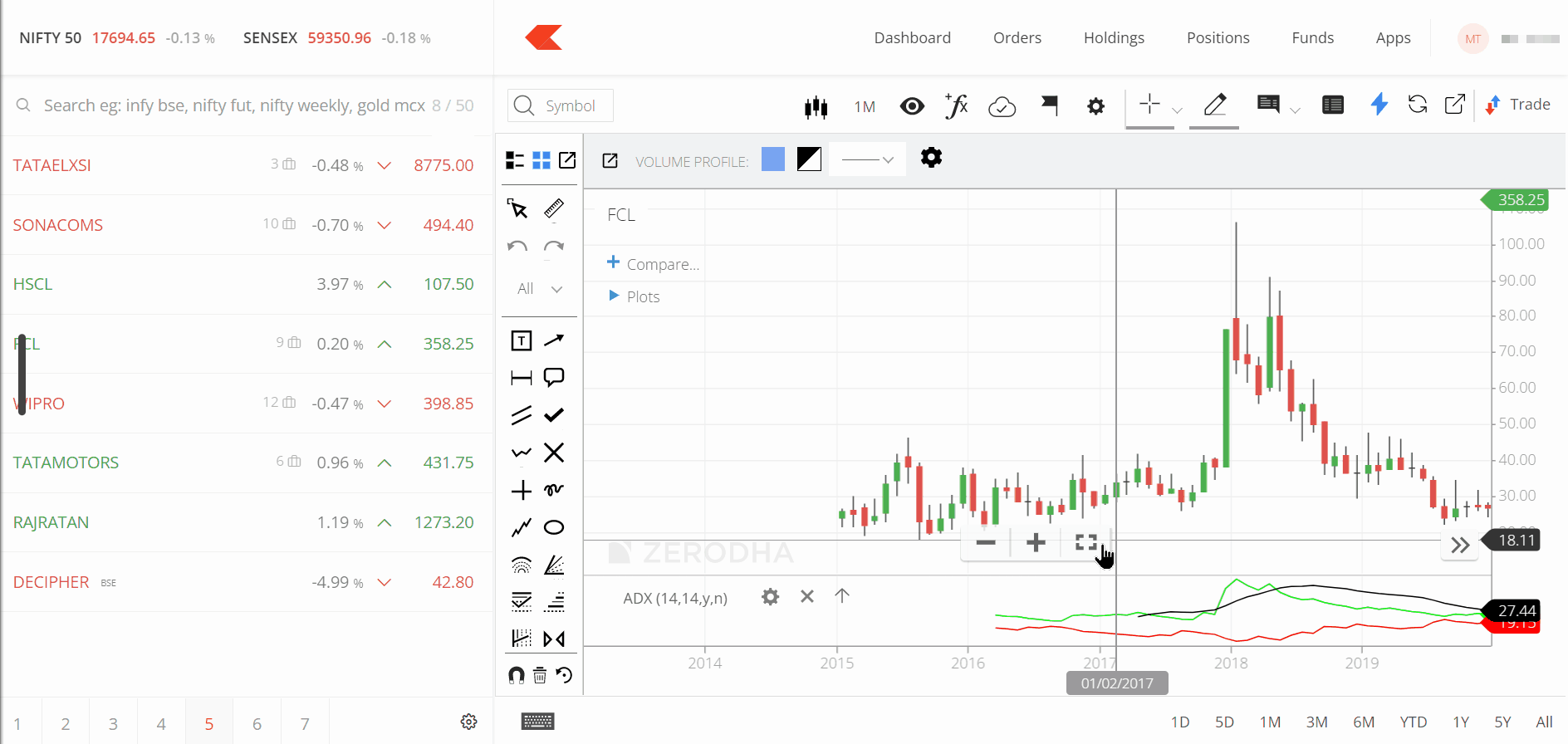 New indicators
New indicators such as Projected Aggregate volume, Projected Volume at time, Volatility Projection Cone, Moving Average Cross, Guppy Multiple Moving Average, Enhanced anchored VWAP are now available.


Continuous chart data is now available for currency contracts.
Did you know? The views, drawings, and preferences are synced on both the previous and upgraded version of Chart IQ.
×