How to buy Sovereign Gold Bonds through Zerodha?
Primary Market
The Government of India issues sovereign Gold Bonds every year. The bond bears a fixed interest per annum which is paid twice a year. You can read the features of the bonds on this NSE FAQ page .
The issue is open for a specified period, and you can place the order to buy units on Coin here . The orders are placed on the offer close date. You can modify/cancel your order until then. The allotment will happen within 10-15 days, after which you will be able to view it under your holdings.
You need to log in using your Kite credentials and enter the quantity you wish to bid for.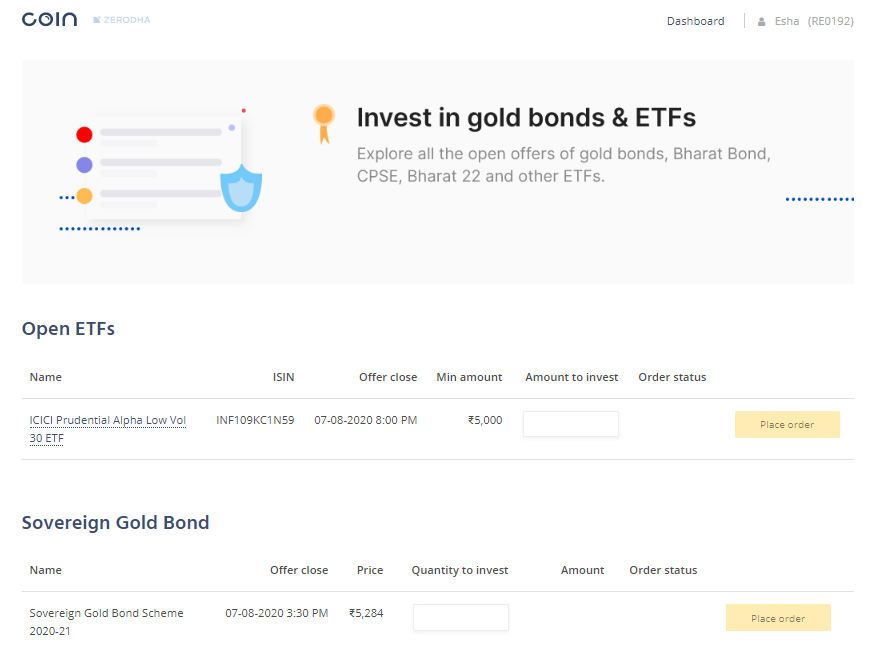 You have to make sure that you have sufficient funds in your Equity account on the last day of the issue. If not, we will reject your order. If you want to avoid this, you can consent to use the available funds in your account to place the order partially.
For example, you have Rs 10000/- in your account. You haven't made any payin to your account. The issue price of an SGB is Rs 4797/-. Assume that you have placed an order for three (3) units. The required amount to successfully place this order is Rs. 14391/- (4797x3). But your opening ledger balance on the issue close date is Rs. 10000/-. In this case, you are short of Rs. 4391/-. If you have consented to use the available funds, then the Rs. 9594/- (4797x2) will be used to purchase two (2) units of the SGB.
Let's look at another example,
You have Rs 10000/- in your account. You have made a payin of Rs. 5000/- to your account. This pay-in is made before 3:30 PM on the issue close date. Now, you have Rs 15000/- in your account, and you have placed an SGB order for four (4) units. The issue price is Rs 4797/-. You require Rs. 19188/- to purchase these four units. You are short of funds. Hence, if you have consented to utilise the existing funds, the system will place an order for three units by utilising Rs 14931/- in your account.
Note:
The system will consider the ledger opening balance of the issue close day to place the SGB order

The payins made within 3:30 PM on the issue close date will be considered to place the SGB order at the exchange.
Credits from stocks sold or credits from any other segments (MF, derivatives etc.) on the issue close date will not be considered to place the SGB order.
Zerodha will not fund your SGB purchase; however, if your account results in a debit for any reason, post allotment of SGB, interest at the rate of 0.05% per day or 18% p.a will be charged on the debit balance.
Secondary Market
SGBs are listed on the exchange 10-15 days after the issue and can be traded on Kite. Do note that only orders with Limit CNC orders are allowed due to illiquidity in the segment. Once you purchase SGBs from the secondary market, it will take T+2 days for the SGB to show up in your account as per the settlement cycle.
Did you know? There is no Security Transaction Tax (STT) imposed on trades in SGBs.
×