How do I fill in a DIS slip?
You can follow the instructions below to fill the DIS slip: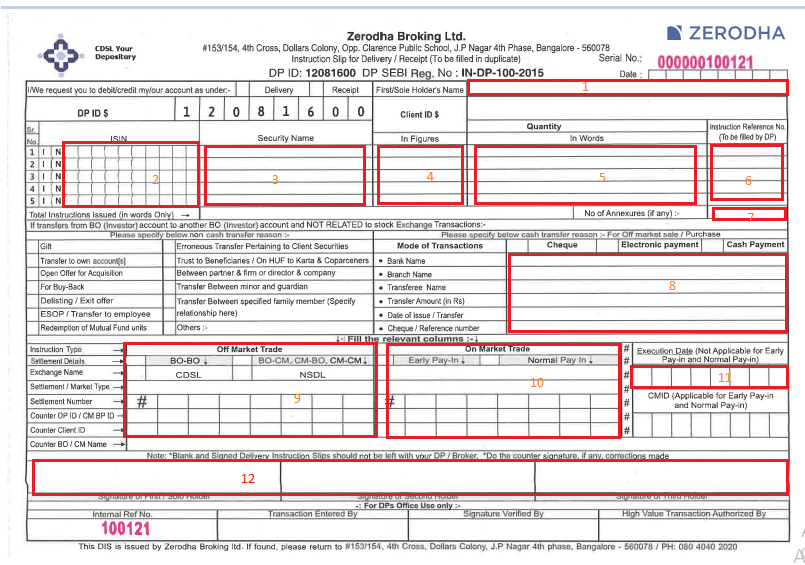 Client name: Specify the name as it appears in the Demat A/c.
ISIN numbers: Specify the ISIN of security to be transferred. Confirm this with your transaction statement. A maximum of 5 ISIN's can be transferred per DIS. Use multiple DIS if you wish to transfer more than 5 ISIN's.
Security Name: Specify the name of the security to be transferred.
Quantity in figures: Specify the quantity in figures.
Quantity in words: Specify the quantity in words.
The instruction reference number will be filled from our end once the DIS is executed.
Please mention the number of DIS annexures attached to the slip in case of transferring more than 5 scrips at the time.
Please fill in the details if you are doing the off-market sale of shares to a particular institution.
Specify counter DP ID, Client ID details, and Counter BO name(Specify the account holder's name to which securities are getting transferred) in respective columns and tick mark the depository option if to CDSL or NSDL and also the Settlement details if BO-BO or BO-CM, CM-BO, CM-CM accordingly.
On-market transfer
The execution date will be filled from our end at the time of executing the DIS slip.
The account holder's signature has to be affixed as per the signature recorded in the Zerodha Demat account.
Note: To transfer multiple shares using a single DIS, you can use the DIS annexure form.
×