How do I change my primary bank account linked with Zerodha?
To change your primary bank account watch this video walkthrough or check out the process below.
1. Log in to Console .
2. Click on Account.
3. Click on Bank.
4. Click on the button that looks like a pencil beside the primary bank account.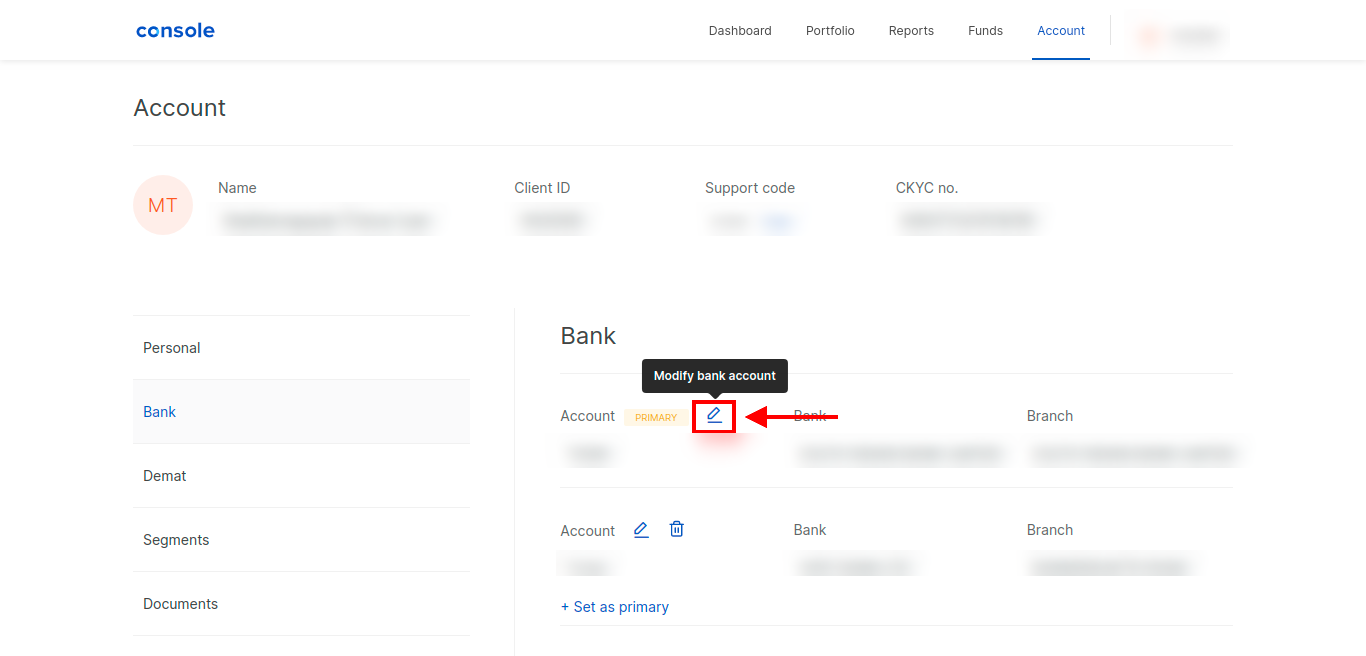 5. Fill in the new bank account number and IFSC. Click on the I/We hereby…. Check box and then click on the proceed to e-sign button.
6. Accept the terms and conditions and click on Proceed to e-sign.
7. Click on Sign now.
8. You will be redirected to the NSDL portal for doing the e-sign. Authorize NSDL, enter your Aadhaar no and click on send OTP.
9. Enter the OTP received on your Aadhaar linked mobile number and click on Verify OTP.
Following all the steps mentioned above will successfully change the primary bank account. Your request will be processed within 48 working hours. You will receive a confirmation mail from Zerodha.
The option to modify the primary bank account online is only available for Resident Individual account holders. Once you place the request, the new primary bank will be mapped within 48 hours. Your previously linked primary bank account will become a secondary bank account.
You will be able to modify your primary bank account online if your mobile number is linked to your Aadhaar. However, if you want to link a bank account that's a joint account, please ensure that you are the primary account holder(First holder).
Please note, you will have to use the offline method explained below to change the primary bank account if you fall under the following -
1. If your account is not linked to your Aadhaar,
2. If you are the secondary holder in the bank account
3. If you hold a non-individual account (HUF, Corporate, or Partnership)
Print, fill, & sign the account modification form , attach the proof of your new bank account and send the form to our head office .
Accepted bank proof can be (any one of the following):
1. Personalized Cancelled cheque (name printed on the cheque leaf)
2. Bank statement (with IFSC Code and MICR No.) (self-attested copy)
3. Bank Passbook statement (self-attested copy)
4. The charge for both online and offline modifications is Rs 25 + applicable GST and is posted on your ledger .
You can have a maximum of three bank accounts linked to your trading account, one primary bank account and two secondary bank accounts. If you already have three bank accounts linked and wish to change the primary bank account, you will first have to raise a request to remove a linked bank account and then change your primary bank account.
The dividends and other corporate action benefits for your holdings are transferred to your primary account since it is mapped to your Demat account. Accordingly, depository regulations require us to collect either an e-sign or a physical signature to map either linked or new bank accounts as primary.
Note: If you are linking a joint bank account as your primary bank account where you are not the first holder, you will have to do it offline.
×