What is the CDSL TPIN and how to use it to sell the stock holdings?
Watch this video walkthrough on setting up CDSL TPIN or check out the process below.
Due to a change in regulation by CDSL, if you are a non-DDPI/POA customer, you'll now have to use the CDSL TPIN and OTP instead of your Kite PIN and authorise the debit of securities from your demat account against a delivery sale transaction.
You would have received the CDSL TPIN to your registered mobile and email address (from [email protected]) with CDSL. If you haven't received it, you can click here to generate it.
With the CDSL TPIN, you can pre-authorise the sale of your stocks at the beginning of each trading day so that you don't have to do it each time you place a delivery sell order during the day.
Preauthorization process
Whenever you place a CNC sell order, you'll see the below screen.
Once you click on "Continue", you'll be taken to the screen shown below.
Click on "manage authorisations" on this screen to select stocks that you wish to authorise for selling. It is best to have all your stock holdings authorised to sell, so you don't have to do this process multiple times. This authorisation is valid for a maximum of one day, after which you will have to go through this authorisation process once again.
Clicking on "Continue to CDSL" opens the below CDSL page where you have to enter your CDSL TPIN.
On successful verification of the TPIN, you'll get a page with a list of all the stocks that you have selected to be authorised. You'll have to enter the OTP sent by CDSL to your registered mobile number and email id to complete the authorisation.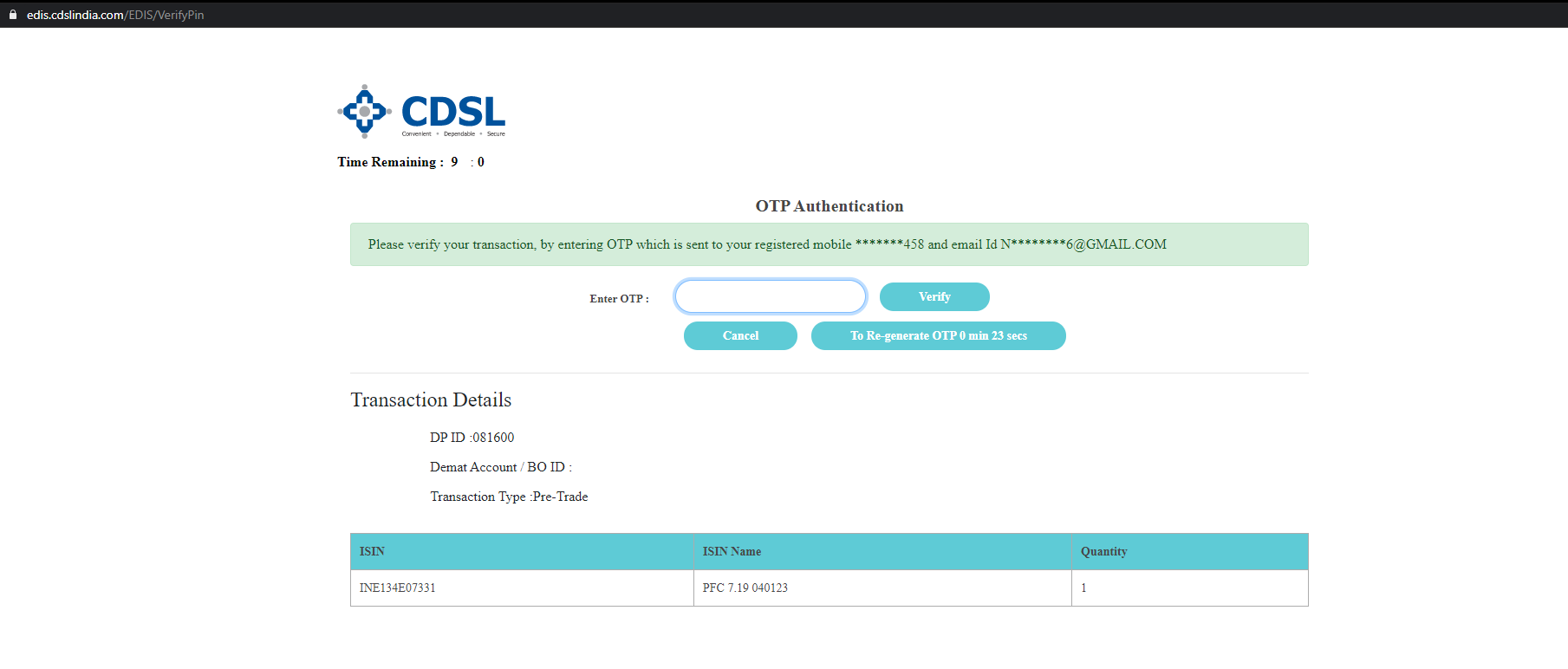 Upon successful authorisation after entering the OTP, you will get the below confirmation message.
Now you can place the sell order on Kite. You would not need to go through this authorisation process once again for the day.
You can also authorise the sale of your stocks by clicking on "Authorisation" on the holdings page on Kite at any point of time during the day as shown in the screenshot below.
A maximum of 100 scrips can be authorised at once as per CDSL.
×