How to register for CDSL Easiest using the Zerodha demat account?
The online registration process is applicable only for individual account holders. Non-individual account holders should courier the physical copy of the easiest registration form that is generated once the registration process is completed to
Zerodha HO
.
To register for CDSL Easiest, follow these steps:
Demat details

: Enter the 8-digit DP ID followed by the 8-digit demat client ID or BO ID and click on

Continue. To know the DP ID and the BO ID visit console.zerodha.com/account/demat

or see

What is my DP name, DP ID, BO ID, and demat ID?





OTP : Enter OTP received on the registered mobile number and click on Continue.


Account details

: In the account details section, enter the preferred username, answer the security question, select the

Trusted Account

checkbox and click on

Continue. There are two

Account type:
Trusted account transfer – Trusted accounts are those demat accounts where a client wants to transfer their securities through easiest. Trusted account transfer permits the transfer of securities from one client to another. Account holders (Beneficiary Owners) can transfer the securities to four CDSL demat accounts of their own choice, which have been added as trusted accounts. Transactions through the trusted account option can be set up and have to be approved by an additional PIN, which will be emailed to the BO separately. If the BO opts for the trusted account option, they will receive two separate emails with two separate passwords, one for accessing the "easiest" log-in and the second for the PIN for authorizing their transactions. To know more, See How to add a trusted account on CDSL Easiest?
Transfers can be done only within the depository (CDSL to CDSL).
Account of choice transfer – Account of choice transfer permits the transfer of securities from one account holder (BO) account to other demat accounts. Transactions are authenticated through a Digital Signature Certificate (DSC) (e-token) which the BO has to obtain from any of the Registered Authority (RA). The BO will have to submit the easiest registration form signed by all the holders (not applicable for sole holders) and the other Registering Authority (RA) form for mapping the digital signature (e-token) to the DP for authentication.
Transfers can be done across the depositories. (CDSL to CDSL & CDSL to NSDL)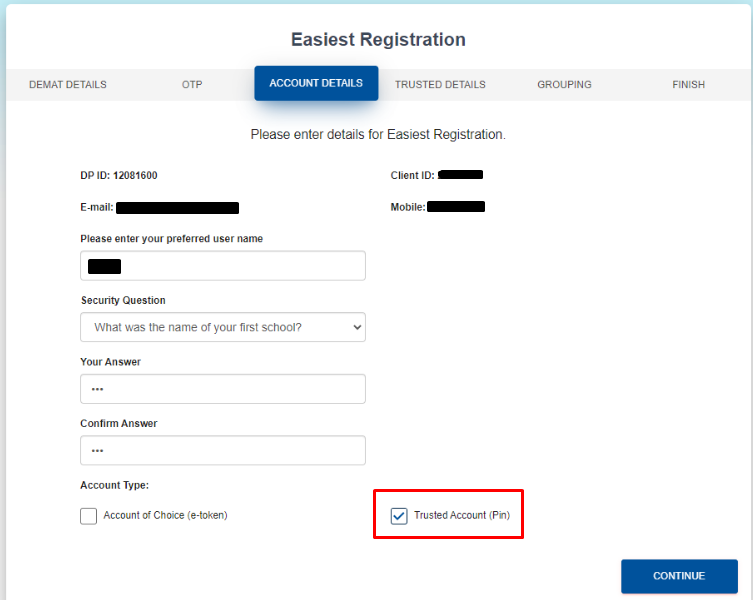 5. TRUSTED DETAILS : Enter the trusted account details, i.e., a 16-digit demat ID of the CDSL account where stocks need to be transferred and click on Continue.

6. GROUPING : This is an optional step. If existing CDSL demat accounts are held with other brokers, they can be grouped using this option, since the BO IDs will be pre-approved. If the existing CDSL demat account needs to be added as a trusted account, select the BO ID and click on Continue, or skip the step by clicking on Continue without selecting the BO ID.

7. FINISH : The registration is now complete and after Zerodha authenticates it, CDSL easiest will be activated for the BO ID. The activation takes up to 48 working hours.

Did you know?
Shares can be transferred from Zerodha demat account to another CDSL demat account using CDSL Easiest. See

How can I transfer shares from my Zerodha account using CDSL Easiest?

There are two depositories in India, CDSL and NSDL, where an account is created when a demat account is opened with a brokerage firm or depository participant (DP). Most online brokerage firms like Zerodha are depository participants with CDSL.
×