What is the procedure to change the registered address on my account offline?
To update the registered address offline with us, you have to send us the hard copy of the account modification form with your address proof.
You have to download the account modification form print it out, fill it up and send it to our head office along with the KYC form which is attached in the same form.
The accepted address proofs are self-attested copies of:
Driving License
Voter ID
Passport
Aadhaar Card

You will be charged Rs 25 + 18% GST for your address to be changed on your demat.
If you would like to update your address in KRA, then please do indicate the same by ticking the box (refer to image) in the 'account modification form'.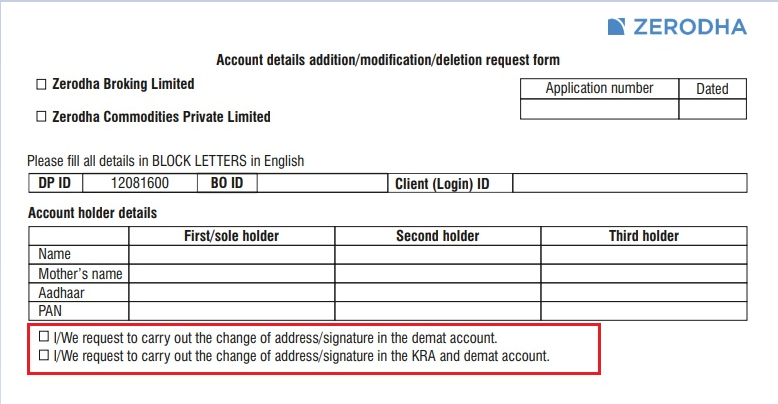 Note:
1. If your Aadhaar is linked to a mobile number you can change the address as per Aadhaar, online. Click here to do the same.
2. Update address as per KRA - Create a ticket below to fetch your KRA details. A confirmation will be required from your registered email ID which can be sent by replying to the ticket directly from your mailbox.
3. If you hold an NRI account, we will require notarized copies of the proof of your new communication address.
×