What is the procedure for changing the address registered with Zerodha offline?
To change the registered address, courier the Account modification and KYC forms (PDF) along with any one of the following self-attested address proofs:
Driving License

Voter ID

Passport

Aadhaar Card

National Rural Employment Guarantee Act (NREA) job card

National Population Register (NPR) letter
If an Aadhaar is being submitted as proof, ensure that a masked Aadhaar is submitted, i.e., black out the first 8 digits of the Aadhaar number. Only the last four digits should be visible. To download a masked Aadhaar online, visit myaadhaar.uidai.gov.in/ and tick the Do you want a masked Aadhaar? option while downloading the Aadhaar.
An account modification charge of ₹ 25 + 18% GST is applicable for updating the change in the address. If the address change is to be updated in the KYC Registration Agency (KRA), tick the box in the account modification form.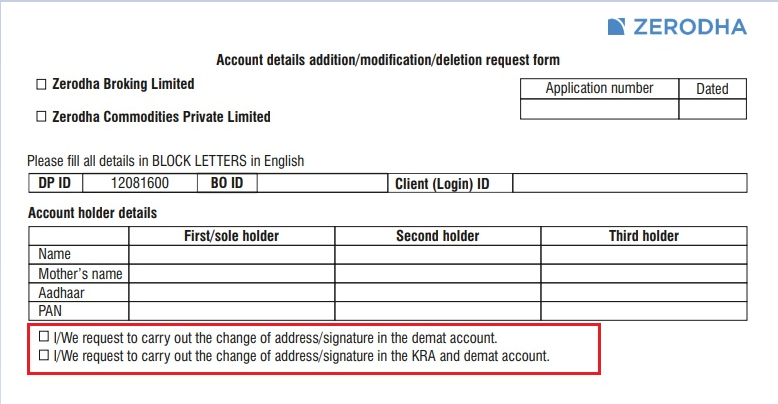 Courier the documents to:
Zerodha,
153/154, 4th Cross, J.P Nagar 4th Phase,
Opp. Clarence Public School,
Bengaluru - 560078

Did you know?
×